When I think of fall, I think of pumpkins. They're yummy to eat, fun to crave, and often turned into lattes. Something you don't hear about pumpkins is, "Wow, I'd really like to look like one…", but this is how a lot of us feel when we wear orange. Am I right? But, do you know who isn't feeling that way? Tons of fashionistas! Don't let this seemingly difficult color scare you, because it's the perfect shade for fall. So here is some inspiration and advice from the pros. So go on, get your orange on!
Beautiful front image and top image via mystlevita
---
The Look How is Julie Sariñana of Sincerely Jules able to make an outfit consisting of only three items  look so good?! It's actually very simple you see, you don't need to wear tons of add-on's just to look great. Keep it simple with classic pieces and look eternally gorgeous. Another plus for this outfit – it's totally comfortable! Ankle booties are a go-to for a girl on the go. There is one thing I think this outfit needs though… and that would be a super delicious cup of hot chocolate! Image source: sincerelyjules.com
Shop This Look This buckled version of Jules' is a little more office appropriate because it a teeny bit longer. If you're afraid of showing off to much skin (or just cold as all heck), opt to throw a pair of gray or black stockings underneath. Fall is all about coziness! – TALL Buckle A-line Mini Skirt by Topshop, $80.00
---
The Look Nothing makes me feel better than cuddling up in my sweater pretending I'm a turtle who is retreating into it's shell. I hope I'm not alone in this. (There's gotta be others right?) To me, the definition of fall is wear as many chunky knits things as often as you can. Sometimes to the point where you might make people uncomfortable with how many layers you have on. All Image source: graypeppergirl.com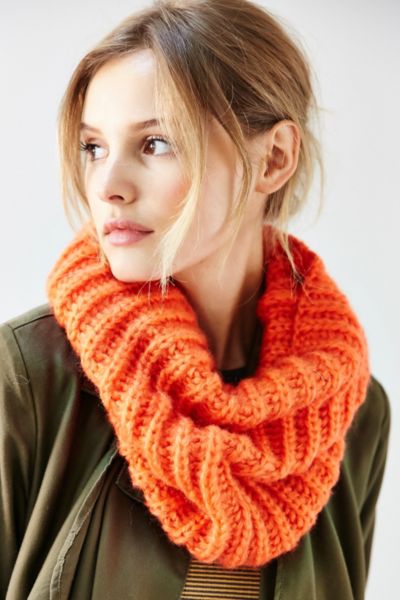 Shop This Look My only beef with scarves is that I always find myself getting twisted around and having my scarf coming undone. The solution? Inifinty scarf. This awesome scarf by Urban Outfitter's BDG is like a hands-free version of Gray Pepper Girl's scarf – which in my book is always a plus. Looking for another advantage to the infinity scarf? They are much smaller than a traditional scarf without sacrificing the warmness.- Fuzzy Basic Funnel Scarf by BDG, $34.00
---
The Look Need another easy office to weekend outfit? Look no further than this cute classic layered look! This look works for every body type and is super easy to recreate. Pair with a skirt, jeans, or a trouser – it totally doesn't matter! Just remember to pick a shirt that peeks trough a little out the bottom if you want to pair with pants. If you're styling with a skirt, tuck the shirt in and leave the sweater out. Pull the sleeves up on the knit to show off those crisp cuffs. Last but not least, pop that collar (out from under your sweater – please not literally, you're not in a frat). Image source: pinterest.com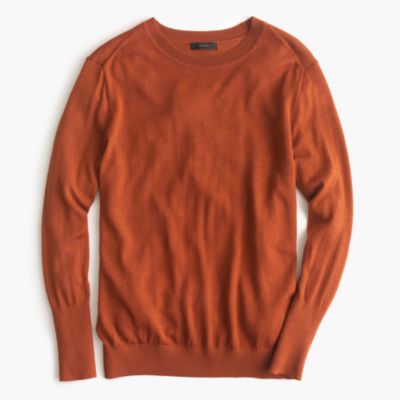 Shop This Look When looking for these sweaters you only have to think about two things to decide what to buy – neckline and fabric. As for necklines, either "scoop" or "v" look universally great on every body type. However, those with either a fuller chest or athletic body tend to look more flattering in a v-neck. Fabric choice is important because that is going to be the longevity of your sweater. Stick to natural materials like cotton, wool, or cashmere only.  Anything else will not only make you sweat, but it will also start to rip and pill up like crazy over with time. Make sure wash your sweaters in cold water. Hot water will most definitely shrink this garment. Sweaters should NOT be dried in a dryer, opt for hanging them on a clothes rack. If properly cared for, these sweaters will last (and look fashionable) forever! – Relaxed Merino Wool Pullover Sweater in Warm Sepia by J. Crew, $69.99
---
The Look Literally my go-to hat for every single day during fall and winter – the beanie! (Worn especially on those I-skipped-washing-my-hair-this-morning days.) Beanies are amazing for styling because it adds a sense of edge and a laid-back attitude. Any sort of accessory is a simple way to add color for people who all you wear is black and sometimes maybe  white. Image source: sincerelyjules.com
Shop This Look Beanies are super, super, super cheap to buy. The ones that are more expensive, you are only buying the label and a slightly better weave of fabric. Otherwise, most are made out the same material – acrylic. This cute one from Forever 21 is so cheap, it's practically free. (I'm sure I've paid more in tax on a meal than on this beanie.) – Ribbed Knit Beanie by Forever 21, $3.90  or 2 for $6.00
---
The Look When talking about wardrobe essentials, you have to own a blazer. But, yuck, they seem so stuffy! No worries, they're not as gross as you think. Unless your job is very formal, (like a lawyer etc.) chances are you can probably get away from the traditional super structured, boxy, shoulder-padded styles. Try looking for one in a more relaxed fit that has a little stretch in it. Colored blazers (espceially in orange *wink*) can be worn for not only well for work, but also for play! Image source: thefashioncusine.com
Shop This Look This blazer by ASOS keeps the silhouette traditional while the color blocking darts keeps it modern and fresh. Wear your blazer over a graphic tee and pair with jeans for a cute weekend look. – Color Block Blazer with Contrast Dart Detail by ASOS, $25.50
Want more blazer ideas? Check out How to Wear a Blazer Outside the Interview & the Boardroom!
---
The Look Move over skinny jeans, wide legs have made a huge comeback recently. So if you don't already own a least one pair, consider investing. Thankfully, so many stores are offering these leggy classics so you're sure to find one that is flattering and affordable. If you're going for a bold look, try styling yours with a contrasting color like the model above. For something more subdued style, stick to white or cream blouses. Just remember, don't forget to tuck in your shirt! As weird or uncomfortable as it sounds, there should be some definition at the waist, and most pairs of wide leg pants come in a mid to high waist (like the one pictured here). Image source: whowhatwear.com
Shop This Look Don't be scared! This look seems a lot more intimidating than it really is. Yes, you will grab some attention, and that might not be your thing – but you'll be getting it for all the right reasons. These soft orange wide-leg trousers from Missguided scream "luxary" and "confidence" and do not take a lot of effort to style. – High Waisted Wide Leg Trousers by Missguided, $60.00
---
The Look Fashionistas are not always known for choosing comfort, but thankfully there are some adorable shoe options out there that don't kill your feet. Introducing the 'it' shoe that has been seen on every stylish chick – the lace up flat. These flats are perfect for all year long – that is, unless you live somewhere snowy…sorry! They look amazing paired with dress, skirts, jeans, and can be worn to the office. Basically what I'm saying is, this shoe will soon be your everyday flat.  Image source: savvyhomeblog.com
Shop This Look Now if you're looking for the "original" lace up flat (well "original" is used loosely here, I'm sure there are historical originals…), you're looking to spend at least $700 for a pair from Aquazzura. As much as I am a supporter of spending money on a good shoe, these cute flats from Boden are still an amazing investment (and they don't require you to sell a limb!)  – Lille Lace-Up Pointed by Boden, $41.40
---
The Look When I think cape, I usually think superhero. Which then makes me remember in The Incredibles  and how you really shouldn't rock a cape if you want to save the world. In real life however, a cape is definately something you should think about rockin'. Yes, they can look really dramatic, but they also can help bring an element of volume to your outfit which can balance out, say, those skinny jeans you're always wearing.  Image source: harpersbaazar.com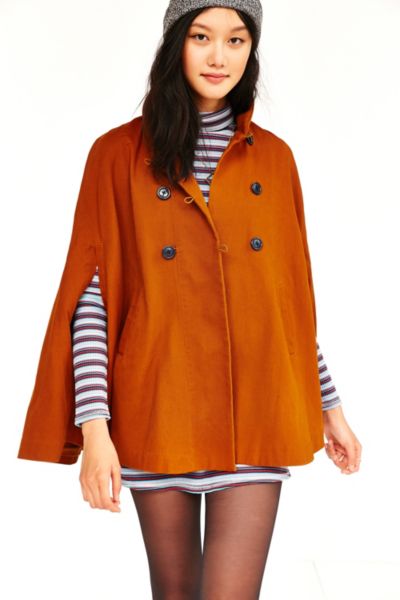 Shop This Look This version by Urban Outfitters is a little less dramatic and girly – instead it's more casual and lightweight. Just remember to wear something with sleeves under to complete your fall look. – Cloclo Cape Jacket  by Alice & Urban Outfitters, $128.00
---
The Look Miroslava Duma expertly rocks burnt orange in a super neutral way, letting the skirt talk for the whole outfit. Instead of playing with colors, Duma instead focused her outfit on texture – those amazing pleats. This look is ideal for a nice event during the weekend. The simple a-line shape makes it suitable for every body type.  Image source: stylecaster.com
Shop This Look While it's not made of leather like Duma's (darn), this satin version by Topshop is sure to flatter! If you choose a shorter silhouette like this one, you can also style this piece for the office. (Maxi skirts can be bulky and get everywhere depending on what type of work you do.) Pair this skirt with either a sweater, button-up or even a graphic tee! – Satin Pleated Midi Skirt by Topshop, $105.00
---
The Look Clutches are most often thought as an evening bag only, but they also can make great weekend bags. Give your shoulder a break and just pack the essentials. I mean, how much of that stuff do you really need? Image source: whowhatwear.com
Shop This Look Make a statement (literally) with this cute clutch from Jonathan Adler. But what if you don't always feel like saying "Yes"? No worries, the inside also has "No" and "Maybe So" for you to look at. You can style this either bold or sedated depending on your mood.  – Yes/No Clutch by Jonathan Adler, $37.99
---
The Look Is this not just the most Instagram-worthy picture you've ever seen? Faraway lands (well for me at least), long hair, perfect makeup, amazing coat (that looks like real fur though…), ice cream, and  a floral crown?! This look definitely screams, "I'm confident, I'm happy, and I love to snuggle." Image source: pinterest.com
Shop This Look I'm not going to advocate buying fur because that brings out a whole new can of worms, so instead I suggest this amazing vest from Missguided. Because this piece is a vest and therefore lacks sleeves, it's actually a lot easier and versatile to wear. More of the body can actually be shown which eliminates that super "oh my god I feel like a Yeti look", so be sure to pair this piece with tighter fitting pieces to balance out the volume.  – Shaggy Gilet Tan by Missguided, $70.00
---
The Look Cara Delevigne shows that you don't have to stay monochromatic – if you want to wear color, wear color! Often times, we are so caught up with making sure your outfit "goes" together and matches, but the truth is an outfit is an expression not something that is analyzed.  Image source: whowhatwear.com
Shop This Look Just like Cara's hat, this one by Forever 21 features a  relatively short brim, which makes it really easy to wear. The studded band helps you feel a little more edgy, and a little less 1950's lady. – Studded Band Wool Fedora by Forever 21, $19.90
---
The Look Sometime the best accessory is a smile (and brightly colored lips). Lipstick is a super easy way to try something new and bold without paying a lot of money. And hey, you can also wipe it off if you can't make it through the whole day. That being said, wearing a bright lipstick not only looks great, but can also help build confidence. This look works well with neutrals (black, gray, navy, olive, tan, cream, and white) for an everyday look. Keep the rest of your makeup simple, instead focus on a clean eye. So draw in those brows and sweep a simple line of eyeliner. Image source: harpersbazaar.com
Shop This Look Not only can you copy this beauty look for under $10, but this chubby lip pencil also doubles as a lip balm. It's infused with Triple Butter Complex of Shea, Mango and Coconut Butter. Go go Revlon! – Revlon ColorBurst Matte Balm in Audacious, $9.49
---
all images belong to their rightful owners as credited. front image source via style.com